An dieser Stelle werden öffentlich zugängliche Berichte sowie Ergebnisse der einzelnen Workpackages des SECOS Projektes vorgestellt.
Erste Version des BAltic Sea Atlas verfügbar
Mit der WEBGIS Applikation ist es möglich die flächige Verteilung verschiedener Parameter der Geochemie, Geologie, Benthologie, modellierter Nährstoffkonzentrationen und der Bathymetrie sichtbar zu machen. Bilder verschiedener Karten können in der ersten Version des Baltic Sea Atlas gespeichert und heruntergeladen werden.
Publikationen
Towards benthic ecosystem functioning maps: Quantifying bioturbation potential in the German part of the Baltic Sea
Mayya Gogina, Claudia Morys, Stefan Forster, Ulf Gräwe, René Friedland, Michael L. Zettler
DOI: 10.1016/j.ecolind.2016.10.025
Ecological Indicators 73 (2017) 574–588
(first published online October 31, 2016)
Variability of bioturbation in various sediment types and on different spatial scales in the southwestern Baltic Sea
Claudia Morys, Stefan Forster, Gerhard Graf
DOI: 10.3354/meps11837
Marine Ecology Progress Series, first published online September 28, 2016
The Baltic Sea scale inventory of benthic faunal communities
Mayya Gogina, Henrik Nygård, Mats Blomqvist, Darius Daunys, Alf B. Josefson, Jonne Kotta, Alexey Maximov, Jan Warzocha, Vadim Yermakov, Ulf Grä̈we and Michael Zettler

DOI: 10.1093/icesjms/fsv265
ICES Journal of Marine Science, first published online January 26, 2016
Economic valuation of Baltic marine ecosystem services: blind spots and limited consistency
Julian Sagebiel, Carmen Schwartz, Mounaim Rhozyel, Sandra Rajmis and Jesko Hirschfeld
DOI: 10.1093/icesjms/fsv264
ICES Journal of Marine Science, first published online January 26, 2016
Implementation of European marine policy: New water quality targets for German Baltic waters
Gerald Schernewski, Rene Friedland, Marina Carstens, Ulrike Hirt, Wera Leujak, Günther Nausch, Thomas Neumann, Thorkild Petenati, Sigrid Sagert, Norbert Wasmund, Mario von Weber
DOI: 10.1016/j.marpol.2014.09.002
Marine Policy
Volume 51, January 2015, Pages 305–321
Abstract
A full re-calculation of Water Framework Directive reference and target concentrations for German coastal waters and the western Baltic Sea is presented, which includes a harmonization with HELCOM Baltic Sea Action Plan (BSAP) targets. Further, maximum allowable nutrient inputs (MAI) and target concentrations in rivers for the German Baltic catchments are suggested. For this purpose a spatially coupled, large scale and integrative modeling approach is used, which links the river basin flux model MONERIS to ERGOM-MOM, a three-dimensional ecosystem model of the Baltic Sea. The years around 1880 are considered as reference conditions reflecting a high ecological status and are reconstructed and simulated with the model system. Alternative approaches are briefly described, as well. For every WFD water body and the open sea, target concentrations for nitrogen and phosphorus compounds as well as chlorophyll a are provided by adding 50% to the reference concentrations. In general, the targets are less strict for coastal waters and slightly stricter for the sea (e.g. 1.2 mg/m³ chl.a summer average for the Bay of Mecklenburg), compared to current values. By taking into account the specifics of every water body, this approach overcomes the inconsistencies of earlier approaches. Our targets are well in agreement with the BSAP targets, but provide spatially refined and extended results. The full data are presented in Appendix A1 and A2.
To reach the targets, German nitrogen inputs have to be reduced by 34%. Likely average maximum allowable concentrations in German Baltic rivers are between 2.6 and 3.1 mg N/l. However, the concrete value depends on the scenario and uncertainties with respect to atmospheric deposition. To our results, MAI according to the BSAP may be sufficient for the open sea, but are not sufficient to reach a good WFD status in German coastal waters.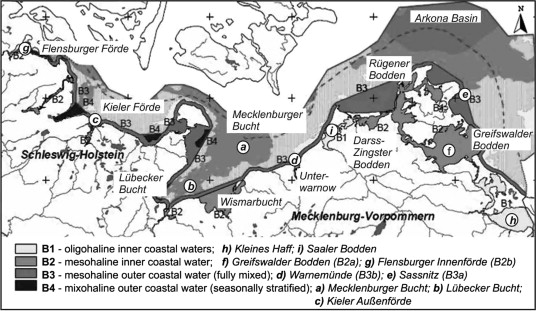 Biotope map of the German Baltic Sea
Kerstin Schiele, Alexander Darr, Michael Zettler, René Friedland, Franz Tauber, Mario von Weber, Joachim Voss
DOI:10.1016/j.marpolbul.2015.05.038
Marine Pollution Bulletin 96 (2015) 127-135
Vorträge
Gewässerqualtitätsziele für die deutsche Ostsee
Im Rahmen der Projekte SECOS und MOSSCO wurden gemeinsam mit allen relevanten deutschen Behörden neue deutsche Gewässerqualitätsziele gemäß der Wasserrahmenrichtlinie und Meeresstrategie-Rahmenrichtlinie für die Ostsee erarbeitet und veröffentlicht. Während der 2. KüNO-Jahrestagung (16.-17. November 2015, IOW) wurde die im Rahmen der Projekte MOSSCO und SECOS erfolgte Zusammenarbeit mit Ämtern und Ministerien zu den Gewässerqualitätszielen in einem Vortrag von Gerald Schernewski (Teilprojektleiter SECOS, WP 4.1) vorgestellt.